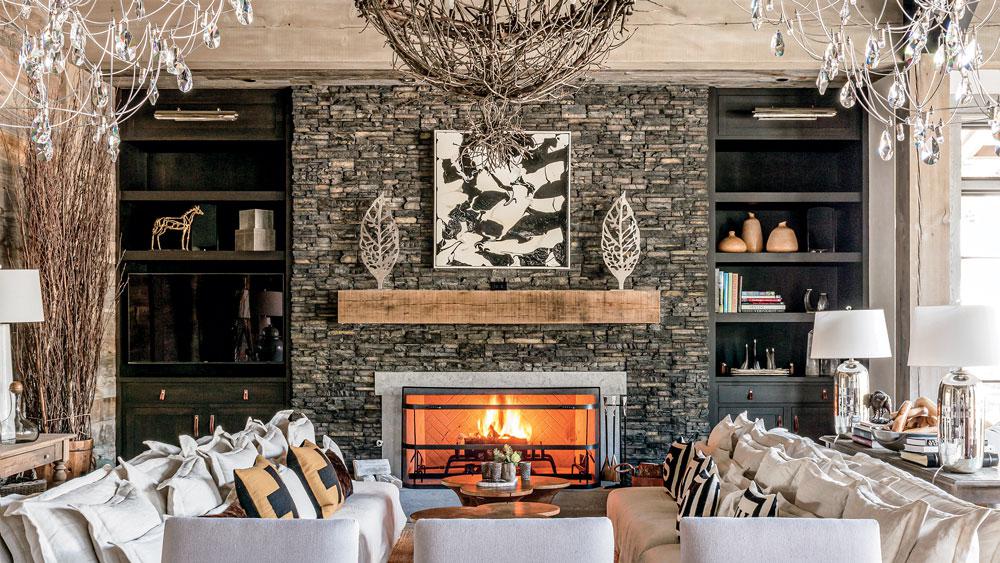 Photo: Eldorado Stone
Wood and stone. They're as natural a pairing in the world of log and timber home
design
as they are in the wild. From a majestic, stone-sided timber frame set atop a hill to a cozy log cabin skirted with rock and nestled into the woods, stone fits a wide range of design applications — and there are almost an infinite number of options available to today's homeowners.
Whether you plan to clad exterior elements of your home with stone or use rock to accent interior architectural details, even a cursory internet search will result in a dizzying array of materials, colors and textures.
That's where we come in. Before you dive into the sea of options, we can help narrow your focus. The first (and most pivotal) step in choosing the right stone for your home is to decide between the real deal or manmade.
As a building material, the two share many similarities in terms of appearance and potential applications, but faux stone, also known as cultured or manufactured stone veneer (MSV), is made of cement mixed with pigments or polyurethane poured into molds, while natural stone is, obviously, sourced from the Earth.
Though it can be hard to distinguish between the two at a glance — both convey a natural look that blends into the environment, are good insulators and are fire-resistant — they do have distinct pros and cons.
Keep reading for a rundown on real versus cultured stone, and you'll have everything you need to make your home rock.
Photo: Timberhaven Log & Timber Homes
Keep it Real
The case for natural stone rests solidly upon its track record. One look at structures of old, from ancient pyramids to medieval castles, is a testament to the longevity and durability of quarried stone. Today, most real stone used in residential building is in the form of stone siding — pieces or panel systems cut from real stone, although some applications may call for natural "full bed" (i.e., uncut) stone.
In either case, the biggest considerations for the homeowner are in the area of
budget
and construction. Real stone generally comes with a higher price tag, not only due to the manufacturing costs of mining and transporting such heavy materials, but also because natural stone must be installed by a trained mason.
Besides material and labor costs and extended construction times when using real rocks, you'll also want to keep in mind that building codes often limit the weight of stone siding to 15 pounds per square foot (meaning, it must be cut correctly), and using full stones inside, such as on a fireplace, will likely require additional structural support in the floor.
While most stones stand up well against the elements, resisting weathering, some varieties are not well-suited to outdoor use. When choosing a specific stone type, it is helpful to consider locally-quarried materials, not only for their potentially lower transportation costs, but also because they likely have been proven to withstand your specific climate conditions, such as heavy moisture or freeze/thaw cycles (although installation is also key to preventing water penetration and cracks). A few stone types with tried-and-true durability in residential design: limestone, sandstone, fieldstone and slate.
Make it Manmade
For the most part, manufactured stone veneer is nearly indistinguishable from its genuine counterpart. This is because faux products are often made with molds cast from real stones, which provide a realistic shape and texture. (Though, with close scrutiny, you may be able to spot some pattern repetition.)
They are generally lightweight and easy to work with, which translates into lower material handling and labor costs. No stone mason is required for installation, and any contractor should be able to add veneer siding to a home's exterior or fireplace surround. Usually, individual stones are applied with mortar, but some stone brands offer panels. And because of their reduced weight per square foot, manufactured stone may not require concrete footings when used to clad a home's exterior or extra joists when used to encase a fireplace.
Cultured stone requires little maintenance, making it a popular option for gables or other second floor applications where staining logs or timbers would require substantially more effort. Manufacturers' warranties generally range from 20 to 75 years — impressive when compared to vinyl or fiber-cement siding.
Something to keep in mind: Manufactured stone veneer is not impervious to
water and moisture
that seeps behind the veneer into the wall backing, which can cause damage and maintenance issues ranging from mold to cracking to efflorescence (an unsightly gray surface residue). As with all aspects of your home, good workmanship matters, so be sure to verify best practice with the contractor handling installation.
Solid Style
The style of your home should inform the shape, color and texture of stone you choose — whether it's real or faux. A timber home with contemporary finishes and clean lines would shine with geometric-shaped, uniform dry-stacked stone in a muted hue, while a rustic log home would benefit from rounded river rock or fieldstone with a rugged profile, richer color and free form design. Whatever look fits your design goals, your home is sure to benefit from the added sense of strength and permanence that comes from using stone as a part of your home's finishes.