A side from the kitchen,
bathrooms
are the most complex – and often most expensive — rooms in the house to design and execute. They're also among the most frequently remodeled. Some designers actually recommend refurbishing a bathroom every five years, but according to homeadvisor.com, the average bathroom reno costs more than $10,000 and upwards of $25k for a master bath, so why not plan to get it right the first time?
We offer four design ideas that have been on the rise over the past several years and show no sign of being out-of-date anytime soon, making them wise investments and enjoyable places to spend your time.
Tub Front and Center
Honest Abe Log Homes; photo by Brandon Malone
Since the tub is typically the largest feature found in a full bathroom, why not make it a focal point? Designers have answered this call by centralizing the bathtub, rather than sequestering it. Some have gone so far as to place the tub in a common area between the bathroom and master bedroom, so that it's visible from both. And thanks to the beautiful, contemporary shapes (see
tub styles below
) today's tub manufacturers offer, they should enjoy their reputation as a
showpiece of the space
.
To accomplish this design edict, you need a sizable room — preferably one that's fairly square — with plenty of walking space around it. Otherwise the tub will become an annoyance instead of an enhancement.
Just Passing Through
Woodhouse: The Timber Frame Company, photo by Gross + Daley
From its sleek style to its smart use of space, it's no wonder that the pass-through (also called a walk-through) shower is one of the hottest design trends in bathroom design today.
Think of it like a high-end carwash for your body: In what amounts to a open-ended hallway (doors can be installed at either end if you prefer) that's encased in tile or glass partitions, it can be equipped with everything from multiple showerheads, massage jets or even an ceiling- mount showerhead that's so large it will truly feel like you're standing beneath a summer rain.
Kick Barriers to the Curb
Golden Eagle Log & Timber Homes photo
It's not uncommon for today's homeowner to ditch the tub altogether in favor of a spa-like, walk-in shower — a decision that has a host of advantages. For starters, you'll save money and possibly a little space by not having to account for the tub. A curbless shower (one that doesn't have a threshold of any kind) is also a forward-thinking strategy, as it eliminates any barriers
in case mobility becomes an issue
. But one attribute many don't even think of is that they can be easier to clean. Since they don't have surface joints, there are fewer places where mold or mildew can collect (and you don't have to drape yourself over the rim to wipe it down).
Bidet Dreams
Get this: TUSHY Spa 3.0 bidet attachment with adjustable temperature and pressure. $119; hellotushy.com
This decidedly European staple is experiencing a small surge in popularity Stateside, thanks, in part, to the toilet tissue shortage during the early stages of the pandemic. However, those who strive for a more eco-friendly lifestyle also appreciate its paperless attributes. Bidets also can be helpful to those with disabilities, arthritis or other conditions that restrict mobility or flexibility.
A traditional bidet is separate from the commode, requiring additional plumbing lines, but there are aftermarket bidets that attach to a regular toilet — some with built-in dryers.
There are conflicting opinions on the health, hygiene and environmental advantages — or disadvantages, depending on which side of the coin you fall — of bidets. Ultimately, the decision comes down to (very) personal preference.
All Wet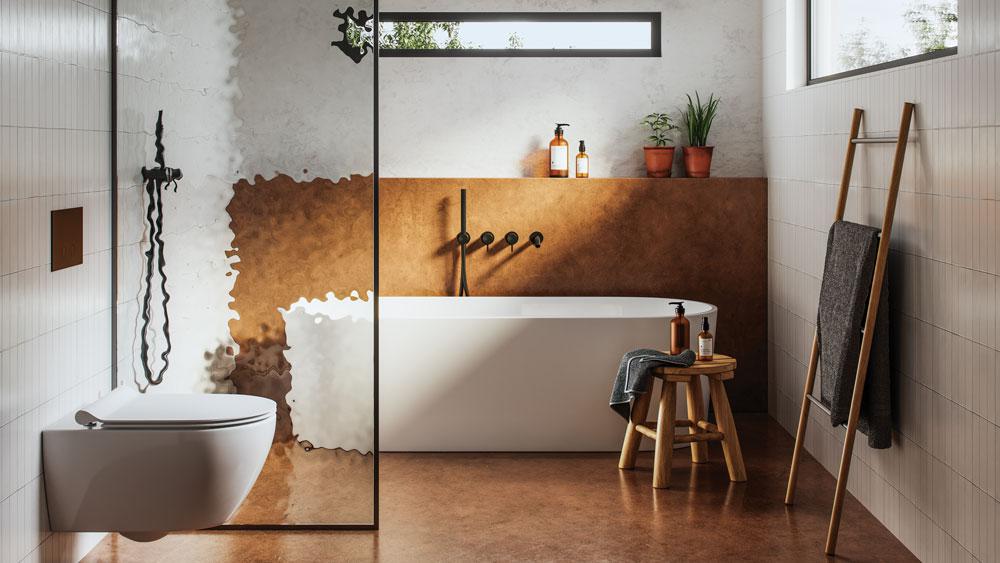 Getty ©alvarez
Originally, wet rooms were conceived to be space savers. They enabled designers to combine a tub and shower into one snug spot behind glass, freeing up square footage for the other fixtures a loo requires. But where once they were a frugal solution for smaller bathrooms, now they are making a statement in sprawling luxury baths.
The downside is that getting the format to fit some floor plans is tough, and setting up the plumbing can be a bit of a challenge if it's not expressly planned for at the onset. Also, you need to select the right kinds of fixtures, as they will get wet a lot. Along the same lines, your tub will get drenched every time you take a shower, resulting in extra cleaning. So if the shower is your preferred mode of cleanliness and you enjoy only an occasional relaxing soak, you may want to keep the tub out of the shower's steady stream.
Tub Types
Since the tub is one of the most prominent fixtures in a bathroom, it should make a design statement. Here's how to identify today's popular styles.
Clawfoot Tub

A classic tub on which the basin rests on four claw-shaped feet. If you like antiques, this is the one for you.

Illustrations: Adobe